resorts around delhi


Aamod Manesar (also known as Turtle Farm) is a new addition by the Aamod group having resorts at Shoghi near Shimla and Dalhousie in Himachal. They have maintained the same elegance and ambiance as their other properties at Shoghi and Dalhousie.

The resort is ideal for training programmes, conferences, family get togethers and weekend getaways for individual travellers. Located about 50 km from Dhaula Kuan very close to Delhi Jaipur Higway (NH8) near Manesar, it comprises of two side by side farm houses with ample green lawns and limited villas for accommodation. Being not located too far from Delhi and Gurgaon it is well suited for Day Picnics and small family or corporate get togethers or training programmes. Vast green lawns greet you with colorful flowers doting the lovely landscape as you enter the well secured gates of Aaomod Resorts. The two seprate farm houses close to Gurgaon can easily cater upto 500 guests in each for the day events.

Accommodation
There are two Main villas for stay. The Main Villa block has 2 two-bedroom suites, and 4 single bedrooms, each with a large en-suite, all opening into a majestic central dining hall and each having a view of the swimming pool and/or lush green lawns. The poolside block has 2 single bedrooms, making a total of 10 bedrooms. The rooms can accommodate extra beds if required. Room size is huge with adjoining large and modern bathrooms.

Each room has air-conditioning, LCD TV's and high quality toiletries and amenities. The adjoing villa has two huge bedrooms making it ideal for a small group giving complete privacy and closeness. Imagine having a complete villa for your stay and only your close ones for your company without having to pay a fortune for the same. Aamod is ideal for that kind of leisure stay.

Location
55 km from Delhi, 35 km from Gurgaon
Activities
Swimming Pool, TT, Pool Table, Basketball, Adventure Rope course , Paint ball (prior request), Foosball, rain dance, cricket
Day Picnics
A lovely resort near Delhi for a day picnic in the mellow winters, there are various activities to keep people of all ages involved.
USP Green lawns, easy accessibility and light adventure fun activities
| | |
| --- | --- |
| Ideal for families and small groups for Day Picnics and stay around Delhi, Aamod Manesar can also serve as a Marriage venue around Delhi | |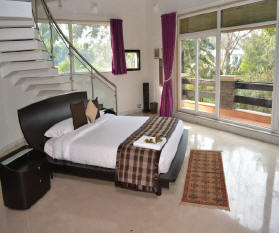 Aamod Bhimtal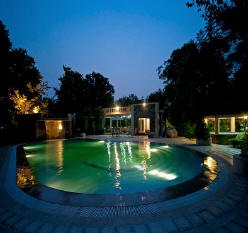 Day Picnic around Delhi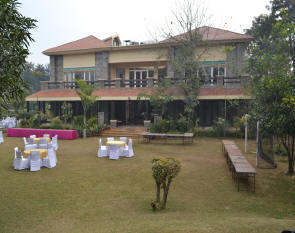 Aamod lawns
Contact Anand 0-9811193634/ Seema 0-9891458220
(10 AM-8PM)
EMAIL
us for bookings and packages

Stay Package Villa Rooms Rs 8000/- per night with breakfast,lunch,dinner (taxes extra)

Day Picnic Group Package ( min 20 persons) Rs 1200/- + taxes per person