resorts around mussoorie


Kempty Falls
The most popular and a must see destination around Mussoorie are the Kempty Falls. Situated about 15 km from Mussoorie on the Yamunotri route the place is home to lovely falls where one can even have a nice cool dip at the base of the falls. The place gets quiet crowded during season months of May and June. They are going to put a trolly soon to reach the base of the falls from top.

Yamuna bridge Go along the road to Kempty for about 10 km to Yamuna pul the place where Yamuna cuts across the mountains to provide a very scenic picnic spot (could be better if developed well) along with angling opportunities (provided you get a license).

Dhanolti About 25 km from Mussoorie, this hill station still in it's developing stage and therefore and unspoilt and beautiful. No markets, no concrete only tall pine trees , green meadows and fruit orchards greet you as you reach this scenically perfect destination. You also have picture perfect views of the snow clad Himalayas on a clear day to keep you company. It makes sense to combine your stay in Mussoorie with that in Dhanolti, but since you do not have any worthwhile hotels in Dhanolti, you can cover it by a day trip from Mussoorie or Chamba. (Camps around Dhanolti)

Chamba About 50 km from Mussoorie is the smal hilll town of Chamba, Uttaranchal(of course don't confuse it with Chamba in Himachal). Again really unspoiilt and with lot of pines and deodar and good views. A real cool place to relax. More on Chamba/Chamba Resort

Kanatal Midway between Dhanaulti and Chamba the place is again a small hill village at a height of 2700m and having heavy snow fall in winter and remaining quiet cool even in peak summers. More on Kanatal/Stay at Kanatal

Dehradun is the capital of present day Uttaranchal and one has to pass through it to reach Mussoorie. Dehradun has a become a business hub with lot of commercial activity. There are also a lot of tourist places in and around Dehradun. More..
MORE ABOUT MUSSOORIE

Contact Seema 0-9891458220/ Anand 0-9811193634/ (10 AM-8PM) EMAIL us for bookings and packages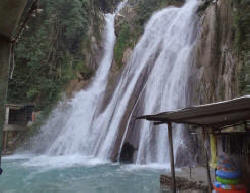 Kempty Falls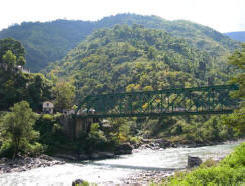 Yamuna bridge
Contact Anand 0-9811193634/ Seema 0-9891458220
(10 AM-8PM)
EMAIL
us for bookings and packages

Stay Package Executive Rooms Rs 4000/- per person night with breakfast (taxes extra)
Deluxe Room at Rs 5000/ per night with breakfast, taxes extra.

Get special adventure package for individuals and groups