resorts around nainital


Just 15 km from Nainital this small village will make you forget that you are so close to the hustle bustle and the concrete of a big hill station. The route takes you through dense jungles of oak and rhododendrons via Viewpoint and Kilbury. One can have great views of the Himalayas at ViewPoint and can spend a day picnic at Kilbury. The only transport available to the place is a self driven or hired four wheels, and you must be very cautious due to treacherous hill driving. The place is known for it's quiet walks into the jungle and for birding opportunities. For bird lists of Pangot and other information about birds visit www.delhibird.org .

UTTARANCHAL
Coming from Delhi it is 11km short of Nainital and known for it's fruit market and health resorts. Though not known as a tourist destination it is ideally located to explore this part of Kumaon with cheap accommodation and proximity to most place worth visiting in the area. One can also enjoy it's serene surroundings with mild climate ample supply of fresh and juicy fruits and no deluge of tourists even in the busy summer season.
25 km from Nainital and 14km from Bhowali when reaching directly from Delhi the place surrounded by fruit
orchards all around and air smelling of the same. There is no Mall, no Video games and no crowds (those looking for all of the above may please avoid) just pure nature and peace. On a clear day you can see a clear view of the Himalayan mountain ranges with their snow capped peaks. Many VIPs have their farmhouses here and the number keeps going up everyday, still the place is unexplored, unexploited and unspoiled so enjoy it till it remains so.
A little further away from Nainital (55km) further along Ramgarh road is Mukteshwar. The place is dominated by the IVRI, a veterinary research institute with flowers blooming all over the place and the
views of the snow clad mountains being incomparable on a given day. The place has a lot of
trekking and camping opportunities. The fruit orchard of apple, plum, apricot and peach extend all the way from Ramgarh to Mukteshwar with small children vying for your attention trying to sell fruits picked up from the nearby trees. Apart from enjoying the natural beauty one can scale the stairs to the top of the hill to visit a century old Shiva Temple.
BHIMTAL, NAUKUCHIATAL and SATTAL
These are the other lakes of the district all being 25-30 km from Nainital via Bhowali with boating facilities available at each . Bhimtal is one of the largest of the district named after Bhima, the Mahabharat character. It has a island in the center approached only by a boat and also has a restaurant there. A gaggle of ducks has made the lake their home and give company to the lake visitor.
Bhimtal Resorts- Country Inn, Mapple Bhimtal
More on Bhimtal/ Resorts, Hotels in Bhimtal
Naukuchiatal or the 'nine cornered lake' is 4km further down Bhimtal. The lake is one of the most beautiful and cleanest too. Apart from the boating and fishing on the lake one can take a walk around the lake with loads of nature in form of flora and fauna to go along side you. Parasailing facilities are available nearby but must make sure of the credentials of the group offering it along with safety measures and arrangements in case of an emergency!
Stay at Naukuchiatal Lake Resort Naukuchiatal, Hill Resort Naukuchiatal
Sattal or the seven lakes is now more of a Paanchtal (five lakes) as two have dried up.A lot of recreational activities are coming up along the lake like camping, fishing, rock climbing , mountain biking and kayaking, check them out at location. TIP A lake known mainly to the locals and very close to Sattal is the Nal-Damyanti lake. Take a left turn on a kucha road before reaching Sattal (ask a local) to reach this almost hidden lake with religious significance. The lake is full of colourful fishes who
are ready to put a show for you if you feed them ( remember to take some bread along). They collect at one corner of the lake and jostle with each other to get that piece of bread. Fishing is banned here.
Camping at Sattal Country Inn Saattal
Click here for Resorts Around Nainital,


Contact Seema 0-9891458220/ Anand 0-9811193634/ (10 AM-8PM) EMAIL us for bookings and packages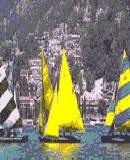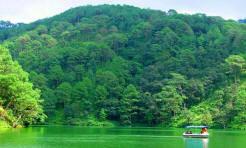 Sattal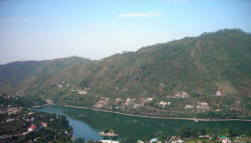 Bhimtal
Contact Anand 0-9811193634/ Seema 0-9891458220
(10 AM-8PM)
EMAIL
us for bookings and packages

Stay Package Rooms Rs 2000/- night with breakfast (taxes extra)
Deluxe Room at Rs 4000/ per night with breakfast, taxes extra.

Get special adventure package for individuals and groups