resorts around shimla


Shimla can be made as a center point for exploring central and western Himachal. Having a car at one's disposal is a great help as most of the places are 1-2 hrs away and one can make a daily escapade to one or two places and come back to one's hotel in Shimla or make a overnite stop depending on your mood.
Closer to Shimla one can visit the Tara Devi temple,11 km and Kamna Devi temple at Prospect hill, 5km for not only religious reasons but also for some solitude and picturesque views. Summer Hill 5km, Mashobra, known for beautiful gardens and Chadwick falls can make for a daytime excursion. There are also many beautiful resorts around Shimla.
About 16km on NH 22 is this small town known for skiing during winter. There is also the Himalayan Aviary harboring some mountain birds including Monal, the state bird of Himachal. In summers one can do horse and yak riding on the green meadows. One can trek to the Mahasu peak for some adventure. Some resorts have come up around Kufri on the Kufri-Chail road for those seeking abode away from the maddening crowds of Shimla.
Where to stay Kufri Resorts
Contact Anand 0-9811193634/ Seema 0-9891458220 EMAIL us for bookings and packages.
Chail is a Maharaja's revenge for not being allowed to enter Shimla over his romantic escapades at Scandal Point. Maharaja of Patiala developed this beautiful countryside and also built the majestic Chail Palace. The place still retains it's old charm without addition of much concrete, as in Shimla. The Palace is now run as a hotel by HPTDC. Chail also boasts of the highest cricket pitch in the world. One can go for some quiet walks into the jungle around and there are angling opportunities in various small streams at a short distance. Chail Wildlife Sanctuary houses sambar, red jungle fowl and chir pheasants. The quiet solitude and romantic ambience of the place makes it ideal for honeymooners.
Chail can be approached from Shimla via Kufri, Shilonbagh and Koti. TIP If traveling straight from Delhi one should take a turn at Kandaghat, about 90km from Chandigarh on the Kalka-Shimla highway.
Where to stay Resorts in Chail
23 km from Shimla in the midst of cedar forests stands Naldehra, named after a nag temple with one of the highest golf courses in the world. The course is 9 holes with 68 par and of soft grass. There is also a picnic ground and log huts la Gulmarg type run by HPTDC. Close by is Tattapani, 28 km a hot sulphur spring at ther banks of river Sutlej, where one can bathe and pay offerings at the temple nearby.Rafting facilities are also available at the river.
Chalets Naldhera is a modern day resort made in French chalet style.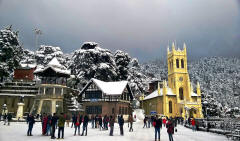 Shimla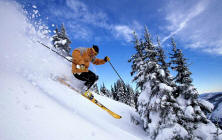 Kufri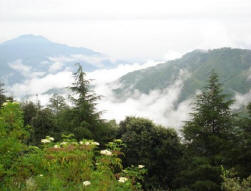 Chail
Contact Anand 0-9811193634/ Seema 0-9891458220
(10 AM-8PM)
EMAIL
us for bookings and packages

Stay Package Executive Rooms Rs 4000/- per person night with breakfast (taxes extra)
Deluxe Room at Rs 5000/ per night with breakfast, taxes extra.

Get special adventure package for individuals and groups