Himachal


BAROG (Destinations around Shimla)
Once a stopover for the traveler to Shimla, Barog has come a long way and become a destination in itself. The things working in favour of Barog are it's proximity to Delhi, an altitude of around 1700 m making it very comfortable even in peak Summer and quiet cold in Winter, though snow is not very common. Also the place is very quiet and green, a perfect antidote for Delhites city blues. Barog can be easily reached by road in about 6 hrs or one can take a train till Kalka and drive less than an hour to Barog. While driving from Delhi one can easily reach Barog in about 6 hrs.
Barog also has the longest tunnel on the Kalka-Shimla toy train route. It is a real experience crossing that tunnel to reach Barog as it turns pitch dark and very cool even in broad day light as one reaches the center of the tunnel. A few hotels and resorts have come up in Barog to cater to the growing number of tourists heading for this off beat hill destination.
General Info
Weather : Barog is a small hill station at a height of 1800m, cool in Summers, can get occasional snowfall in winters.
Best Season : Through out the year
How to reach
Distance : 300km from Delhi(6 hrs)
Road Take NH 1 till Ambala, turn towards Chandigarh, turn left under the bridge at Zirakpur, reach Kalka via Panchkula. Take the Kalka-Shimla highway to Barog.
Train Nearest Rail head is at Kalka 23 km away but you can catch The toy train which stops here and has a beautiful station here.
Where to stay
Barog Heights Barog
The hotel is situated at a height of 6700 ft., at least 500 ft. above Barog, and one has to drive a steep road to reach the resort from the level of the highway. This gives a distinct advantage to the resort in terms of altitude and one feel the difference in temperature as one climbs up to Barog Heights. The hotel is surrounded by lush green pine forests and one can see the top of many such trees from the resort. The hotel has 30 rooms in different categories and most rooms afford very nice views like a bird's view atop a tree. There are large open areas and lush green lawns to sooth one's eyes. There are two restaurants, one on the hill side serving various cuisines. There is also a well stocked bar with nice decor and good ambience along with a cheerful staff.
For recreation there is fully equipped gymnasium, table tennis, billiards, card room, carrom and video games for children.
There is also a Conference Hall with seating capacity of 100 persons.
Also see Shimla Resorts

Contact Seema 0-9891458220/ Anand 0-9811193634/ (10 AM-8PM) EMAIL us for bookings and packages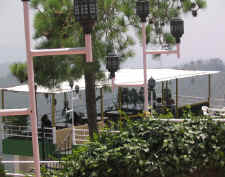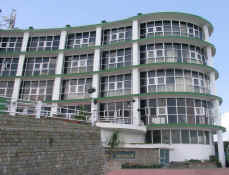 Barog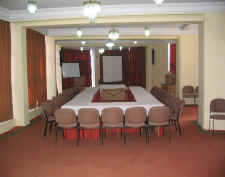 Contact Anand 0-9811193634/ Seema 0-9891458220
(10 AM-8PM)
EMAIL
us for bookings and packages

Stay PackageExecutive Rooms Rs 4000/- per night with breakfast (taxes extra)

Get special adventure package for individuals and groups