around mussoorie


Chamba About 50 km from Mussoorie is the smal hilll town of Chamba, Uttaranchal (not to be confused with Chamba in Himachal). Chamba is at an altitude of 1600m ASL. Again really unspoiilt and with lot of pines and deodar and good views. Unlike Mussoorie, the place is very quiet and picturesque and an excellent place to relax to wash your city blues. One can reach Chamba in about 6-7 hrs from Delhi via Haridwar, Rishikesh & Narendranagar (290 km). One can also combine stay at Chamba with one at Mussoorie or Kanatal and reach via Dehradun, Mussoorie and Dhanolti.
Classic Hilltop Resort, Chamba
Situated on the Mussoorie-Chamba highway at an altitude of 7000 feet is the Classic Hill Top Resorts. The resort is equidistant from Mussoorie and Rishikesh (about 50 km). The resort offers tranquility for the city dweller along with complete relaxation with facilities for Yoga, meditation, Ayurvedic massages along with a spa, sauna, Swimming pool and jacuzzi. For the kids there are indoor games like table tennis, a recreation room with various electronic games and much more. A special attraction is the glass house which can be used for parties, games etc. It affords excellent views of the Himalayan ranges and makes for a lovely setting. Also provides good facilities for Conference with a large Conference Hall catering to upto 150 pax. Again large green lawns and the fruiting trees spread over the Classic Resort, Chamba makes it an ideal resort to realx and conference.
Check list
Distance from Mall road, Mussoorie- 50 km
Parking - For 30 + vehicles at the resort.
Cuisine - Indian, Continental, Chinese.
Bar - No
Lawns - Yes
Recreation - Swimming Pool, Table tennis, badminton, billiards, disco, spa.
Special attraction - Glass House, Views
Conference hall - Yes
Contact Seema 0-9891458220/ Anand 0-9811193634/ (10 AM-8PM) EMAIL us for bookings and packages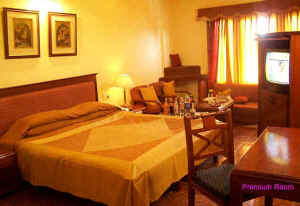 Room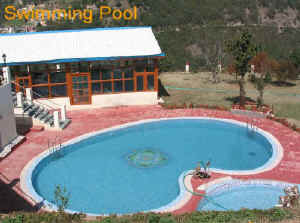 swimming Pool
Contact Anand 0-9811193634/ Seema 0-9891458220
(10 AM-8PM)
EMAIL
us for bookings and packages

Stay Package Executive Rooms Rs 8000/- per person night with breakfast (taxes extra)

Get special adventure package for individuals and groups