Himachal

TOURIST PLACES DHARAMSHALA

The high snow clad Dhauladhar ranges of the Himalayas form a magnificent backdrop to the hill resort of Dharamshala. This is the principal township of Kangra and overlooks the wide spread of the plains. With dense pine and deodar forests, numerous streams, cool healthy air, attractive surroundings and the nearby snowline, Dharamshala has everything for a perfect holiday. It is full of life and yet peaceful. And not surprisingly, the headquarters of His Holiness the Dalai Lama is here. Covering a wide area in the form of a twin settlement, Lower Dharamshala (1380 m) is a busy commercial center, while Upper Dharamshala (1830 m) with the suburbs of McLeodganj and Forsythganj, retains a British flavour and colonial lifestyle. The charming church of St. John in the wilderness is situated here and this is final resting place of Lord Elgin, a British Viceroy of lndia during the l9th century. There is also a large Tibetan community who have made this their home. Mcleodganj is the capital in exile for the Tibetan community. Numerous ancient temples like Jawalamukhi, Brijeshwari and Chamunda lie on the plains below Dharamshala.
Places to Visit in Dharamshala
The variety Dharamshala offers ranges from temples, churches and monasteries to museums, ancient towns and places of natural beauty. Every season and every spot has its own offering.
War Memorial
At the very start of town, landscaped lawns fill a pine grove where a monument has been raised to commemorate the post independence war heroes of Himachal Pradesh. Kangra Art Museum.
Kotwali Bazar
This treasure love of the Kangra valley's arts, crafts and rich past displays artifacts that date back to the 5th century. It includes gallery of Kangra's famous miniature paintings and a representative collection of sculptures, pottery and anthropological items. 'Shamianas' and dresses used by local royalty, old carved doors, jails, lintels and pandals are also on display. Coins, jewellery and manuscripts are included. A section houses the work of contemporary artists, sculptors and photographers. The library is just below this.
Excursions
Dal Lake:
11 km from Dharamshala and surrounded by deodar trees, the lake fills a mountain bowl, On the motor - road, this is an enchanting and serene picnic spot.
St. John's Church
8 km from Dharamshala, between Forsythganj and McLeodganj is the charming dressed- stone church of St. John in the wildness. Under the shade of deodar branches, a memorial has been erected over the body of the British viceroy, Lord Elgin who died at Dharamshala in 1863. There is a wall tended old graveyard on these grassy slopes.
McLeodganj
Often called the' Little Lhasa' at 1770 m, this is the residence of His Holiness the Dalai Lama. The Tibetan government-in-exile has been here for over three decades. The impressive monastery has larger than life images of the Buddha, Padmasambhava and Avalokteshwara. The large Tibetan community and the presence of traditional architectural designs drawn from Tibet have enhanced the area. A host of Tibetan handicrafts, curios and garments are available on sale and every Sunday, a flea-market appears.
Bhagsunag
Close to fresh water springs, this ancient temple is 11 km from Dharamshala. It is a popular picnic spot and the famous slate quarries are close by.
Kunal Pathri
A 3 km level walk from the Kotwali Bazaar leads up to this rock temple.
Andretta
13 km from Palampur, the famous artist S. Sobha Singh lived here for several years. A gallery houses some of his major works. Also, there is a pottery centre at Andretta.
Other Attractions
The temple of Jawalamukhi, Chamunda Devi and Briheshweri Devi are other pilgrim centres close to Dharamshala. The forts of Kangra and Mangarh are other attractions.
Adventure Activities and Sports
Between May and October, the Dhauladhar ranges offer an enormous variety of trekking and rock climbing. Himachal's mountaineering institute has a branch at Dharamshala.
Fishing
The 20 km stretch of the river Beas between Nadaun and the Pong Dam offers ample opportunities in angling for mahseer.
Shopping
For local handicrafts at Kotwali bazar, Tibetan handicrafts and carpets at McLeodganj.

Contact Seema 0-9891458220/ Anand 0-9811193634/ (10 AM-8PM) EMAIL us for bookings and packages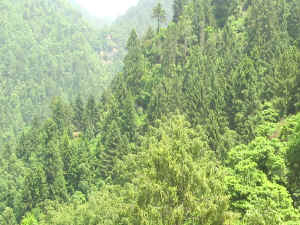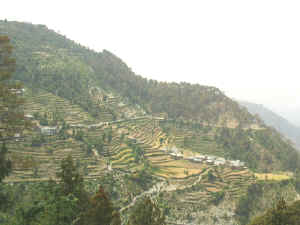 Stay PackageExecutive Rooms Rs 3000/- per person night with breakfast (taxes extra)
Contact Anand 0-9811193634/ Seema 0-9891458220(10 AM-8PM) EMAIL us for bookings and packages

Get special adventure package for individuals and groups