heritage around delhi


Unchagaon is village close to Garh Mukteswar on Moradabad – New Delhi National Highway in the state of Uttar Pradesh. Around 10 kms short of Brijghat, Unchagaon is on left diversion off the highway.
This place, Unchagaon is incidentally very close to river Ganges . The particular stretch is very famous for Dolphins. Bask in the solitude in the warm sunshine, sit beneath the trees or walk along the river. Only very lucky ones may even see crocodile.

Fort Unchagaon
Fort Unchagaon stands majestically in village Unchagaon; just about an hours drive from Garhmukteshwar & merely 130 kms from New Delhi .The present Raja Surendra Pal Singh inherited this early 19th century fort at the tender age of ten. The young heir took personal interest in the maintenance and preservation of this ancestral residence. This palace was renovated under his guidance and thus is the evident the influence of the early 20th century blend of Indian and colonial architecture.Being the private domicile of a prince, the décor is authentically aristocratic.As the years rolled by, all modern amenities were added to the old palace making it much loved weekend get away for many close friends and relatives of the family. The imposing white façade of SURYA MAHAL is surrounded by well-manicured, lush verdant lawns. Presently Fort Unchagaon offers 21 Double rooms and Suites and a host of activities & recreational games.

How to reach
A mere 130km from New Delhi and 170 Km from Agra. The Fort Unchagaon stand tall as an ideal gateway to Uttaranchal. It is an easy drive beyond Hapur off the Moradabad Highway. Last few km are on the village road.

Accommodation

Two types of rooms, Fort and Court House are available. Fort rooms are in the main fort and are much bigger while the Court rooms are in annexe and are smaller in size.

Facilities
* Royal accommodation (21 rooms)
* Multicuisine restaurant
* Recreational facilities like badminton, cricket, table tennis & a new Swimming Pool
Conferencing Facilities are available for upto 50 persons.
* Boat Cruise (River Ganges)
* Horse Riding (at the hotel)
* Bullock Cart Rides (Village)
* Potter wheel experience. (Village)
* River Dolphin Sighting (River Ganges)
What to do
Fort Unchagaon apart from being an heritage experience also give you a chance to have a look at the village setup and promotes rural tourism. A walk through the village gives one a chance to view the village life along with a chance to see pottery making and jaggery making. One can also try once hand at making some pots oneself. You can also play badminton, table tennis or cricket amongst the fruit orchards. Boating at River Ganges is available through local boatsmen and Dolphins have also been sighted. Horses are available at the Fort's stable. Fort Unchagaon now boasts of a new swimming pool.

Contact Seema 0-9891458220/ Anand 0-9811193634/ (10 AM-8PM) EMAIL us for bookings and packages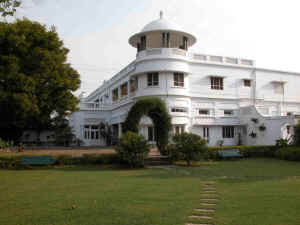 Stay PackageExecutive Rooms Rs 4500/- per night with breakfast (taxes extra)
Contact Anand 0-9811193634/ Seema 0-9891458220(10 AM-8PM) EMAIL us for bookings and packages

Get special adventure package for individuals and groups