Club Mahindra Kanatal Resorts & Spa

kanatal resorts, kanatal uttaranchal, kanatal
Kanatal Resorts and Spa is new luxurious hotel in the off beat hill station of Kanatal near Mussoorie on the Delhi Jaipur Highway. Located away from the hum drum of the main hill station like Mussoorie, Kanatal Resorts and Spa and at a height of about 2200m. Kanatal can be reached by the following two routes
Route No. 1 –

New Delhi – Ghaziabad - Modi Nagar – Meerut – Muzaffar Nagar -Saharanpur – Chuttmalpur – Dehradun(78 kms) – Dhanaulti – Kaddukhal - Kanatal



Route No. 2 -

New Delhi- Ghaziabad – Meerut – Muzaffar Nagar – Roorkee – Haridwar – Rishikesh – Muni Ki Reti – Narendra nagar (NH 94) – Chamba (11 km) - Kanatal
The total distance is about 300k from Delhi
Accommodation The resort is designed to cater to the tastes of nature lovers. The beautifully designed property offers 34 rooms and 3 exclusive suites with stunning view of dense pine forest valleys. Kanatal Resorts & Spa has been designed and built to provide maximum comfort for guests regardless of the season. The rooms at Kanatal Resorts & Spa are designed to imbibe the feel of the mountains.

The Spa Rasayana, the spa extends the essential ingredients for exploring the true self. In an encapsulation, Kanatal resort is the most precise term for natural curing by way of sophisticated spa treatments. Various spa and ayurvedic treatments are available at the resort.
Indoor Pool A small heated indoor dip pool is available for relaxation and dissolving your city stress.
There is a restaurant, a coffee shop, bar, a gym and indoor games room with TT, pool table, video games etc.

Contact Seema 0-9891458220/ Anand 0-9811193634/ (10 AM-8PM) EMAIL us for bookings and packages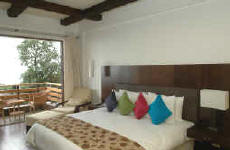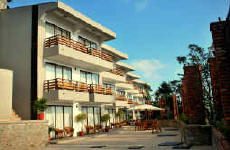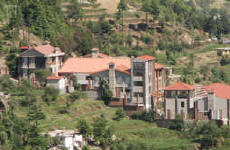 Contact Anand 0-9811193634/ Seema 0-9891458220
(10 AM-8PM)
EMAIL
us for bookings and packages

Stay Package Deluxe Rooms Rs /- per couple per night with breakfast (taxes extra)