bharatpur resorts

Laxmi Vilas Palace / Laxmi Niwas Palace Bharatpur

Laxmi Vilas Palace Hotel /Laxmi Niwas Resorts
Set amongst a sprawling 50 acres, the Laxmi Vilas Palace Heritage Hotel was built in 1857 for Raja Raghunath Singh, the younger brother of then ruler of Bharatpur, Maharaja Ram Singh son of Maharaja Jaswant Singh. An eclectic and lively fusion of Rajput and Mughal architecture, the place was earlier called Raghunath Niwas, though the locals always preferred to call it Kakaji Ki Kothi.
Laxmi Niwas Palace is located in Bharatpur in the state of Rajasthan. It has been built next to the well known heritage hotel Laxmi Vilas Palace by the same owners, has similar architecture as the older Laxmi Vilas palace. Utmost care has been taken to give it the old world grandeur as well as providing all facilities to the tourist.
Rooms
Classic and Suites at Laxmi Vilas, All suites at Laxmi Niwas
Activities
Swimming Pool, Table Tennis, Pool Table, badminton, spa, Bicycles on hire, carrom board, Puppet Show every evening
Conference and Banquet Hall
Three conference halls are available from 30-300 guests. Bharatpur can be reached in just 3 hours from Gurgaon/Delhi/Noida and makes for a great conference venue or destination marriage with large halls, open lawn areas and good room inventory.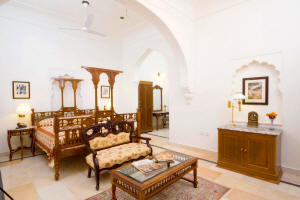 Suite Laxminiwas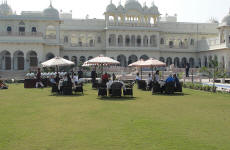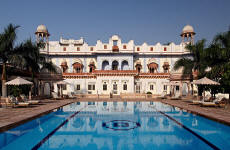 Contact Anand 0-9811193634/ Seema 0-9891458220
(10 AM-8PM)
EMAIL
us for bookings and packages

Stay Classic Rooms Rs 5000/- per couple per night with breakfast (taxes extra) Suites Rs 6000/-+taxes