Ranthambhore

ALSSISAR NAHARGARH
Built like a traditional Rajput hunting palace with beautiful gardens, lovely courtyards and well decorated rooms Nahargarh is located on the outskirts Of Ranthambore. On the first look one gets the feeling that it is a heritage property and a royal palace of an old Maharaja. Nahargarh at Ranthambhore is a marvel in architecture where the makers of the Resort have tried to recreate a building of the bygone era at the same time providing all the modern day comforts. As in a old royal palace, the rooms are of good size with hand painted roofs, traditional chandeliers, room decor and bathroom almost as big as rooms itself. Some of the rooms have individual courtyards while the suites have private terraces with excellent views. Royal Gardens with fountains make an excellent back ground for evening cocktails and gala dinner parties.

Restaurant, Conference rooms and bar at Alssisar Nahargarh are worth visiting even if just to have a look at the the marvelous roof paintings, antique furniture, paintings and other artifacts. The resort at Ranthambhore is an excellent destination for leisure or conference or for hard core wild life enthusiasts planning to visit the Ranthambhore Wildlife Sanctuary. For recreation there is a swimming pool, lawn tennis etc. The accommodation is really high class and the services fit to serve royalty.


Nahargarh, the most luxurious hotel lies nestled at the foot hills of 'Aravali ranges' neighboring the Ranthambore National Park. Surrounded by a 16th century style fortress, Nahargarh is built like a traditional Rajput hunting palace complete with a vast "Char Bagh" or formal Mughal garden. It sure is the perfect base to explore Ranthambore from the lap of luxury filled nature.

Nahargarh is a complete habitat in itself as one can see several animals and birds, performing their playful acts in the surrounding grasslands. The proximity of Nahargarh to the National Park makes it a travelers' hub. With 68 ultra luxurious rooms It offers the best-in-the-industry facilities for accommodation and dining. Nahargarh with its vast gardens well appointed conference halls and luxurious accommodations is also an ideal location for hosting fairytale weddings and conferences.
Contact Anand 0-9811193634/ Seema 0-9891458220(10 AM-8PM) EMAIL us for bookings and packages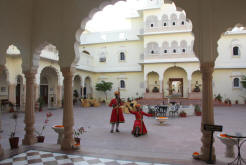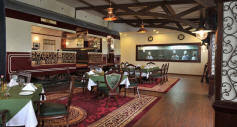 Contact Anand 0-9811193634/ Seema 0-9891458220
(10 AM-8PM)
EMAIL
us for bookings and packages

Stay Package Rooms Rs. /- per couple per night with breakfast & Dinner (taxes extra)