resorts around delhi


Weekend Getaways Around Delhi- V Resorts Mahendragarh
Located around 150 km from Delhi and an easy 3 hours drive from Delhi and just 2.5 hours from Gurgaon, V Resorts Mahendragarh takes you to a World you won't believe existed so close to Delhi. Surrounded by lush green fields the resort is a brand new property located in midst of nowhere and a great off beat location. Very different from the highway hotels and resort along Delhi Jaipur Highway, one can really find quietness and solitude in this boutique resort.
Rooms- Cottage Rooms Fungram - Spacious rooms with all modern amenities like A/c TV mini bar etc. It also provides a sitout area facing the garden area.
Tree House Rooms - Located on first floor made in between a large tree, it has a large situout balcony amongst the tree branches giving a nice feeling.
Prefab Rooms- Made in army style bunkers and shaped like an igloo it also comes with a sitout area.
Restaurant- A Bamboo A/c restarurant serves multicuisine food with some local specialties thrown in.
Activities Swimming pool, cricket, volleyball, cycling, village and farm tour, trekking, Star Gazing through telescope is a special attraction as large clear skies and hardly any ambient light gives the star gazers a wonderful view.
I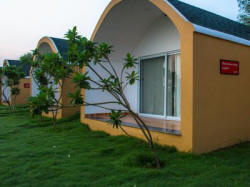 Cottage V Resorts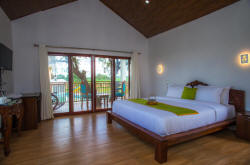 Room V Resorts Mahedragarh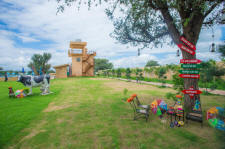 V Resorts
Contact Anand 0-9811193634/ Seema 0-9891458220
(10 AM-8PM)
EMAIL
us for bookings and packages

Stay Package Cottage Rs 5,000/- per couple per night with breakfast, lunch, dinner (introductory offer,taxes extra)

Winner of our Free Stay offer for October at V Resorts Mahendragarh is Mr Jitender Mobile No. 70**67. Please send us a whatsapp with your acceptance and we will share the voucher with you shortly. Join our Whatsapp group 'AroundDelhi Deals' to win free holidays and other deals- JOINOr send whatsapp to 9811193634 with message Join.