resorts around Delhi

While most heritage resorts near Delhi are born with the beauty and treasures of history, Neemrana offers a vibrant site for magical weekend getaways, feasts, celebrations, and conferences. This 15th century heritage hotel is among the most popular resorts near delhi for weekend breaks and is ideal to invent your own past at the dream site of history. Seven palace wings built over 14 layers tiered into a hill across 2.5 hectares/ 6 acres of garden-palace, make Neemrana Fort-Palace one of the most unique resorts near Delhi ! Hanging gardens, two pools to swim out to the horizon, an Ayurvedic spa, and India's first zip-line is what the world comes to experience ! One stay here will get you started on the discovery of the best resorts near Delhi.
Accommodation
Neemrana Fort-Palace is finally ready with 71 rooms/suites and rampart gardens . An additional wing now houses the pool and health spa, an amphitheatre, the hanging gardens with a salon, a restaurant with a roof-top garden and conference rooms and many special suites.
Rooms start at Rs 4000/- per night for single and Rs 6000/- per night for a double with breakfast ( taxes extra 13.65% )
Food & Beverage

Breakfast is included in room tariff. Fixed menus are offered at per head rates : Lunch Rs. 1000/- and Dinner Rs. 1100/- (+taxes).
The Maha Burj Lunch restaurant offers: Vegetarian Thali Rs. 600/- (+taxes), Non-vegetarian Thali Rs. 900/- (+taxes) on weekends.
Most Saturdays during the season have a special cultural performance followed by a mandatory gala dinner for Rs. 1600/- (+ taxes). This amount is payable in advance.

Location
130 km from Delhi off the Delhi - Jaipur Highway
Activities
Swimming Pool, TT, Bar, Zip line, Cultural Activities at weekends, Vintage car ride, Camel ride, Visit to the 18th century step well (baoli), Multimedia tour, Spa.
Non-resident ( For information only, we do not book for day visits, lunch etc.)
Non-resident guests without prior lunch bookings, are not allowed entry, even if the Fort is not fully chartered.
Weekday rate (Mon-Fri) is Rs. 1600/- (9 am - 2.30 pm) & Weekend rate (Sat-Sun) is Rs. 1900/- (12 noon - 2.30 pm). This Includes entry and lunch for one person or will be 100% adjustable against the room tariff. Non-resident guests are permitted for 2 hours only and are requested not to enter areas marked for resident guests and to honour the peace of this place. Entry for non-resident guests will close at 2 pm. Lunch service ends at 2.30 pm.
Contact Anand 0-9811193634/ Seema 0-9891458220(10 AM-8PM) EMAIL us for bookings and packages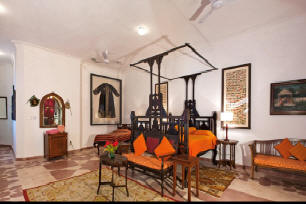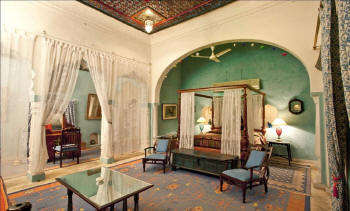 Contact Anand 0-9811193634/ Seema 0-9891458220
(10 AM-8PM)
EMAIL
us for bookings and packages

Stay Package Rooms Rs. /- per couple per night with breakfast & Dinner (taxes extra)