Around Nainital

Queen's field as it literally means, Ranikhet is named according to legend, after Rani Padmini wife of Raja Sukhardev who like this place so much that she thought of settling down here. It's a place where one can find nature and it's elements in full harmony.
General Info : Ranikhet

UTTARANCHAL
Altitude : 1830 m
Climate : Cold in winters, pleasant in summers
Area : 22 sq. km
How to get there
Distance : 360 km from Delhi, 55 km Nainital
Road
For Ranikhet follow the same route as for Nainital till Bhowali. From Bhowali follow the road to Khairna and on to Ranikhet. For Delhi-Nainital route click here.
Train
Nearest railhead from Ranikhet is 80 km away at Kathgodam. Get a taxi or a bus from there.
Air
Nearest airport is at Pantnagar 110 km away.
What to see/What to do
Take in the panoramic views of the Himalayas and breathe in the fresh pine scented air even before you reach the main hill station. Ranikhet is a cantonment area and somewhat similar to Kasauli of Himachal as it is clean and reminds you of the gone by British raj with it's colonial buildings et al. Being under the army no major constructions have been allowed in Ranikhet allowing it to retain it's old world charm. One can go for long walks in the jungle or admire the lovely view of the Himalayas from Bhagirthi in the west to Nandakot in the east, all day long. For some this may suffice but if want more you won't have to struggle much as there are lot of attractions nearby.
Jhula Devi temple in Ranikhet is very popular with the local and is famous for innumerable bells it has, tied by devotees to get their wishes fulfilled.
Chaubatia, 10 km from Ranikhet away houses the botanical gardens and a Govt. fruit research institute where one see different varieties of exotic flowers and orchids. It also serves as a vantage point to view snow clad Himalayan mountain peaks including NandaDevi, Trishul, Nandaghunti and Nilkanth.
Uppat, 6 km away hoses a very beautiful 9 hole golf course among fruit orchards. One can have a game here on payment of charges, clubs can also be hired.
Kallika, near Uppat is know for it's Kali temple and affords excellent views.
Bhalu dam, 3km from Chaubatia has a man made lake serving as a reservoir for a dam on Kosi river. It supplies water to the region including Ranikhet.
Where to stay
Rosemount Ranikhet
A heritage property maintained by the Chevron group provides comfortable stay in beautiful surroundings at Ranikhet with very courteous and helpful staff. The rooms are available in the old building and also the newly constructed cottages. The whole place is very green with flowers, plants and huge trees. One can relax in the lawns and on a clear day have snow clad mountains for company while sipping your chai. The hotel is on the quieter side of the Mall in absolute tranquil surroundings.
Contact Anand 0-9811193634/ Seema 0-9891458220(10 AM-8PM) EMAIL us for bookings and packages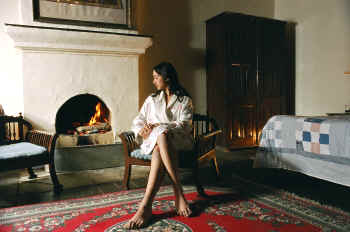 Contact Anand 0-9811193634/ Seema 0-9891458220
(10 AM-8PM)
EMAIL
us for bookings and packages

Package room Rs /- for 2nights 3 days with all meals for a couple