wildlife resorts around delhi


Om Rudrapriya is the premium holiday resort perfectly placed at the exotic destination of National Tiger Reserve, Ranthambore. A comparatively new resort its value for money with good rooms, all modern facilities and beautiful green lawns and a swimming pool to give relaxation to guests.
General Info Ranthambore
Weather :
Ranthambore is cool in winter and hot in summer. Nights are much cooler then the day.
Best Season :
October to February. Sightings though are higher in May-June if you could bear the heat.
How to reach
Distance :
360km (7 hrs).
Road
One can easily reach Rantahmbore from Delhi in around 7 hrs via Daruhera, Tijara ,Alwar, Dausa
Train
The nearest rail head is at Swai Madhopur.
Stay at Ranthambore Resorts
Stay at Om rudarpriya
Om rudarpriya resort at Ranthamhore gives you a choice of Deluxe Rooms and Honeymoon Suites. Room facilities include mini bar, a/c, attached modern bathrooms,tea/coffee maker,intercom and a writing table
Facilities at Omrudarpriya Resort Ranthambhore - Swimming pool, Safari Desk, Restaurant, Conference Hall, Lawn Area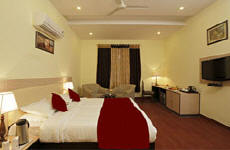 Om rudarpriya Rooms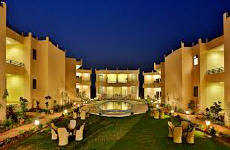 Om Rudarpriya Ranthambore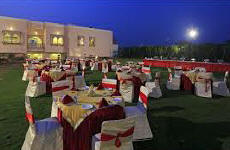 Om Rudarpriya Lawns
Contact Anand 0-9811193634/ Seema 0-9891458220
(10 AM-8PM)
EMAIL
us for bookings and packages

Package Rs 15000/- for 2nights 3 days with all meals for a couple
Rantahmbhore Safari Rs 700/- per person onward for the canter