rajasthan heritage hotels


Samode Palace is one of the finest Heritage hotels of Rajasthan, and also one of the closest from Delhi being just about a smooth 5 hrs drive. Nestled among the Arravalis the Palace is situated in Samode village. Samode palace was built about 400 years ago in various stages. and converted to a Heritage Hotel. Samode is just 45 km from Jaipur so the visit to the two places can be combined together. The Palace is built in a combination of Rajput and Mughal architecture. It is also a fine example of Shekhawati paintings with some of them having pure gold as a medium. The Palace is so beautiful that people come here to just have a look at it and pay a price for doing that.
The Samode Palace has a choice of standard rooms, deluxe suites and Royal suites. The rooms have a royal touch with some of them having life sized portraits of Samode rulers. The rooms are spacious, some of them even having a small running fountain in the room. One of the interesting thing about the rooms is the bathrooms, they are the size of a normal room with exquisite marble bath tubs in white or green.
For recreation there is a swimming pool, jacuzzi, gym, ayurvedic massage. Puppet shows and cultural programmes are held every evening. Conferences can be held at the magnificent Durabar Hall, which was used extensively for Sanjay Khan's 'Tipu Sultan' and many other film shoots.
About 4 km away is Samode Bagh with deluxe tents housed in about 20 acres of green area. Each tent has heating along with snsuit marble bathrooms. For recreation there is swimming pool, croquet, badminton, tennis, horse and camel rides.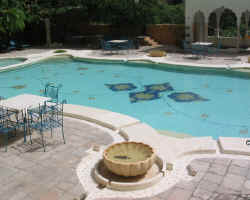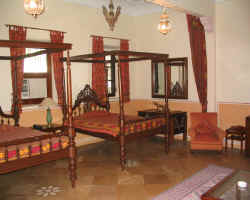 Contact Anand 0-9811193634/ Seema 0-9891458220
(10 AM-8PM)
EMAIL
us for bookings and packages

Stay Package Executive Rooms Rs 4000/- per person night with breakfast (taxes extra)

Get special rates for individuals and group and group bookings. Call us now at Around Delhi.