Stay inside Corbett Forest Tiger Reserve
Corbett is all about the jungle, the river and of course the tiger. If you plan to visit Corbett National Park and want to get all this and more, Hideaway River Lodge is the place to go and stay. Located inside the Corbett Forest core area requiring a permit to enter the jungle with entry from the Durga Devi gate and situated close to the Ramganga river.
Accommodation is in Luxury camps in the jungle spread over a 12 acre area with attached bathrooms and English toilets with running water. The camp has to be cordoned off by solar powered electric fencing to ward off the wild animals in the night. It is quiet common to hear the Tiger's roar or howl of other animals in night in very close vicinity. To reach the Hideaway camps, one has to park one's vehicle at the hotel, take the permit for full day, hire a jeep and enter from the Durga Devi gate, travel through the forest area (equivalent to doing a jungle safari) reach the Ramganga river and then take an elephant ride to the camp. But do not worry, we will arrange all this for you if you book your camp booking through Around Delhi.
The camps for stay are sheer luxury in the lap of nature, being quiet spacious with a sitout area with each tent. There are solar lanterns to give you light after sunset and bon fires and hot water bottles to keep you cosy during the night. During day time you can do some bird watching or go for fishing along the Ramgana river or go for Elephant safari any time. Corbett is a heaven for bird watchers and people come from all over the World for this and Mahaseer fishing at the Ramganga and no place better than Hideaway River Lodge to do it.
Contact Seema 0-9891458220/ Anand 0-9811193634/ (10 AM-8PM) EMAIL us for bookings and packages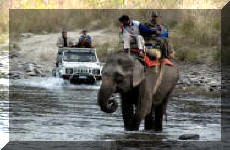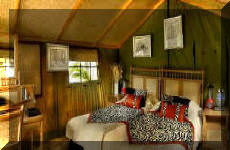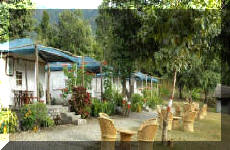 Contact Anand 0-9811193634/ Seema 0-9891458220
(10 AM-8PM)
EMAIL
us for bookings and packages

Stay Package Rooms Rs. 10000/- Per couple per night with breakfast (taxes extra)