Rising majestically over the rocky and rugged terrain is one of Rajasthan's finest forts-the Mehrangarh Fort. It looks down protectively over the fascinating city of Jodhpur. Famous for its magnificent forts and palaces, Jodhpur is the second largest city of Rajasthan and a major tourist attraction in the country. The city is situated at the edge of the Thar Desert with Jaisalmer on its west, Barmar, Jalor and Pali on its south, Bikaner on its north, and Nagaur on the eastern side.
Jodhpur was founded by the Rajput chief Rao Jodha in 1459. The city was the erstwhile capital of the Marwar state. A 10-km-long wall made of stone and built about a century after the city was founded, surrounds the old city. There are about 100 towers in the city, most of which are surrounded by defensive battlements.

Jodhpur General Info
Area: 78.60 sq. km
Population: 6,66,279 (1991)
Altitude: 230 metres above sea level
Languages: Marwari, Rajasthani and Hindi
Best Time to Visit: November to March
Weather

The city of Jodhpur has a typical desert climate, dry and hot. November and March are the best time for a journey to Jodhpur with pleasant and sunny days. Jodhpur receives 359.5 mm of rain every year, most of it during the monsoon (July/August). Maximum temperature in Jodhpur during the summers remains in the range of 40șC while in the winters the minimum average temperature is 11șC.

How to reach Jodhpur

Air
Jodhpur is connected to Delhi, Jaipur, and Udaipur with flights of state owned Indian Airlines and its subsidiary Alliance Air. The airport is located 5 km south of the city.

Rail
Rails connections are available to Jaisalmer, Jaipur, Kota, Ahmedabad, Delhi, and Bikaner. Tourist quota is also available and the office is located at the railway station itself.

Road
Jodhpur is the major transportation center for onward journey to the desert town of Jaisalmer and other places in Udaipur. Buses are available for Udaipur, Jaipur, Ajmer, Jaisalmer, Ahmedabad, and Delhi.

What to see

Mehrangarh Fort
Holiday to Mehrangarh Fort Magnificent Mehrangarh, one of Rajasthan's finest forts, looks down protectively over the city, from the hilltop. The fort is situated at an altitude of about 125 metres and is spread over an area of 5 sq. km with seven gates. One could drive up or walk to the top of the small and not so steep hill. Driving or walking up, the sheer rock face from where emerges the tall and massive sandstone wall of Mehrangarh looks awesome indeed.
More about Mehrangarh Fort…

Jaswant Thada.
Red sandstone stairs led up to the chessboard checked courtyard of the neat white marble cenotaph. Dedicated to Maharaja Jaswant, this memorial was built in 1899. Inside, the reverent ambience is framed with several portraits of Jodhpur royalty. It is a peaked structure from the outside with precise trelliswork and excellent carving.

Umaid Bhawan
The beautiful corridors, staircases and hallways preserve in near entirety of Umaid Bhawan rouses the curiosity of adventurous spirits.A wonderful palace of beige sandstone built by Maharaja Umaid Singh in 1928 and designed by the President of the British Royal Institute of Architects. The Fort is a blend of several styles, merging pleasantly. All the trappings of Raj influence, pre-independence royal living are present. Royal auditorium ballrooms, huge dinning-room, gilded royal furniture, majestic tiger and deerskins on the walls of a gloomy library of old books, crystal chandeliers, stained glass windows, liveried menservants and doormen, swimming pool in basement, various mementoes and old photographs. There is so much to see and discover.

Mandore
Holiday to Mandore Before the foundation of Jodhpur was laid, Mandore was the established capital of the old Marwar Kingdom. Just nine kilometers away, Mandore is a fascinating complex of sprawling gardens, massive cenotaphs, temples, ruins and sculpture. The several cenotaphs in memory of the Jodhpur Maharajas are intricately carved, peaked, temple-like structures, with entirely sculpted facades. Gods, goddesses, animals, lotuses, adorn the walls and pillars of old yellow sandstone. The largest and most noteworthy cenotaph is dedicated to maharaja Ajit Singh.

Museum
The Jodhpur Museum exhibits a rich collection of armory, textiles, arts and crafts, miniature paintings, portraits, manuscripts, and images of Jain Tirthankaras.

Around Jodhpur


Kailana Lake
A charming picnic spot around a lake, famous for a spectacular view of sunset this lake is located 11 kilometers from Jodhpur.

Balsamand Lake and Palace
A summer palace on the embankments of a serene and calm lake, Balsamand Lake is located 7 kilometers away from Jodhpur.

Sardar Samand Lake
A long drive 55 kilometers through the countryside leads to this shimmering lake

Osian
Osian has the ruins of 16 Jain and Hindu temples built between the 8th and 11th centuries located 65 km away from Jodhpur.

Nagaur
Cattle Fair Famous for an old fort and palace with beautiful murals of lores and legends, Nagaur is 135 kilometers away from Jodhpur. An annual cattle fair held here in January/February is rated as one of the best in Asia.
Where to stay - Jodhpur Hotels
Contact Seema 0-9891458220/ Anand 0-9811193634/ (10 AM-8PM) EMAIL us for bookings and packages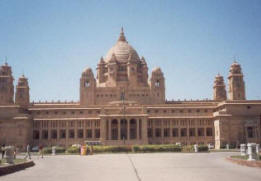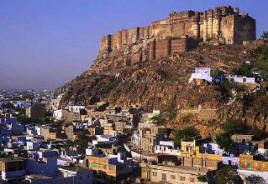 Contact Anand 0-9811193634/ Seema 0-9891458220
(10 AM-8PM)
EMAIL
us for bookings and packages

Stay Package Deluxe Rooms Rs /- per couple per night with breakfast (taxes extra)