Mandawa is a town in Jhunjhunu district of Rajasthan in India. It is part of Shekhawati region. Mandawa is situated 190 km off Jaipur in the north and 250 km form Delhi. Mandawa is known for its fort and havelis. This town has been referred to as the "open art gallery" of Rajasthan because the entire Shekhawati region and not just Mandawa is dotted with fascinating mansions (havelis) that have lavishly painted walls.
Haveli is the term used for a building of personal residence in Shekhawati and Marwar regions of Rajasthan, India. The word Haveli is of Persian origin, meaning "an enclosed place". Between 1830 and 1930, Marwaris erected buildings in their homeland, Shekhawati and Marwar as evidence of their success. These buildings were called Havelis. The Marwaris commissioned artists to paint those buildings. The Havelis are noted for their frescos depicting mythological themes. The frescos include Images of Gods, Goddesses, animals, life history of Lord Rama and Krishna, profusely painted on the Havelis in this region.
Some of the well known Havelis are Hanuman Prasad Goenka Haveli, Goenka Double Haveli, Murmuria Haveli and Jhunjhunu Haveli. Most of the painting has been done with natural dyes on mud plaster walls. One also gets a feel of the typical Rajasthani village going through on a Village tour, help of a guide in seeing the village and the Havelis. A Camel safari in the small desert dunes surrounding Mandawa can also be done. Mandawa can be added as a part of your Rajasthan Itinerary or also as an off beat Rajasthan Weekend destiantion from Delhi.

Contact Anand 0-9811193634/ Seema 0-9891458220(10 AM-8PM) EMAIL us for bookings and packages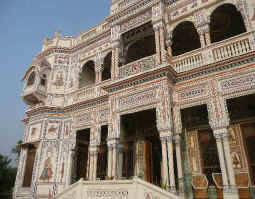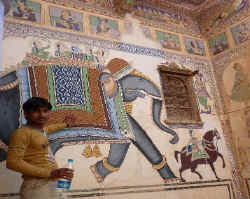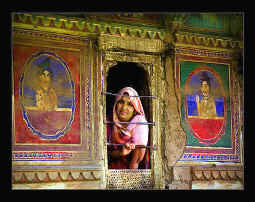 Contact Anand 0-9811193634/ Seema 0-9891458220
(10 AM-8PM)
EMAIL
us for bookings and packages

Stay Package Deluxe Rooms Rs. /- per night with breakfast & Dinner (taxes extra)

Super Deluxe Room for s Rs. /- per night with bf and Dinner ( taxes extra)