shekhawati rajasthan

CASTLE PACHAR-SHEKHAWATI,RAJASTHAN

My parents left behind their ancestral homes in their village back in Pakistan side of Punjab. Thus I had never experienced village life in real terms, so when I got an invitation to stay at an old Haveli in a Rajasthani village, I accepted it gladly. The best part about the whole thing was that it was only 5 hrs drive from Delhi. The destination was going to be Castle Pachar at village Pachar in the region of Shekhawati in Rajasthan. Shekhawati owes its name to Rao Shekha who ruled this region in the 18th century. The region is known for painted frescoes, often called the 'Open Art Gallery' with beautiful hand painting on walls, ceilings and pillars of houses, temples etc.

We started at around 6A.M. in the morning from Delhi and were soon cruising at top speed on the smooth as silk Jaipur highway. In two hours we had reached Behror, 120 km from Delhi and stopped at Shiva Oasis for breakfast, a nice resort on the highway with lot of green areas, a swimming pool and good comfy airconditioned rooms, making for a nice weekend option around Delhi. Another 3 hours drive through almost desert like conditions but on good metalled roads, we were at Pachar, passing Khachriawas on the way, hometown of our vice- President Mr. Bhairon Singh Shekhawat. The initial look at the Haveli, Castle Pachar was not so encouraging though the attached green lawns looked inviting. We were greeted by Hanumant Singh, the caretaker an ex Taj Hotel man. Once we entered the Haveli we were taken aback by the sheer beauty of Rang Mahal the common sitting area. The room was decorated in innumerable shades of different hues in traditional Rajasthani style. There were old photographs, jewellery, souvenirs and so on donning the walls. The haveli was donated by the Maharaja of Jaipur to Thakur Ghuman Singh ji around 300 years ago and has been renovated and thrown open for tourists.

The place has about 13 rooms on three floors done in Rajasthani décor with attached modern toilets complete with tiled floors, bathtub, English toilet, a shower and hot & cold water. The rooms are spacious and comfortable though not very luxurious. We were starving and were served a mixture of Rajasthani & continental lunch in a equally beautiful restaurant the Sheesh Mahal with paintings, handcuffs etc. decorating the walls. The food was Rajasthani and simple and had a unique flavor to it, with not too much of spices and oil . We were told that every ingredient of the meal was either produced in the Haveli or procured from the village. The Haveli has it's own vegetable garden, wheat, cows and buffaloes for milk. The water is drawn by boring and was very sweet though mineral water is also available.

In the evening we took a village tour and saw various mohallas like the mochi mohallas, (the cobblers) the kashtgars (the farmers), the kumhars (Potters) and so on. We found that literacy level was quiet high in the village with lots of children able to speak English. We were welcomed by many village folk and loved to see a typical village house. Just next to the village was a huge natural lake where provisions had been made for boating and fishing. The sunset from the place was just great with nothing to obstruct your view.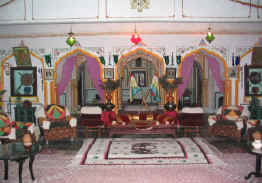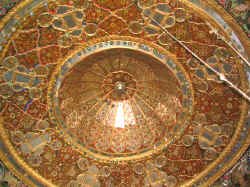 Contact Anand 0-9811193634/ Seema 0-9891458220
(10 AM-8PM)
EMAIL
us for bookings and packages

Package room Rs /- for 2nights 3 days with all meals for a couple