Pushkar Rajasthan


About Pushkar:
The Holy City of Pushkar is not only the cradle of Lord Brahma the Creator and a pilgrimage center for all Hindus, but also hosts the annual Pushkar Fair, one of the largest cattle fairs in the world. Pushkar is about 6 hrs drive from Delhi on the wonderful NH 8. The closest railway head is Ajmer 12 km and closest airport is Jaipur 120 km. For rest of the days Pushkar offers a desert experience without travelling too far from Delhi. One can also visit the Ajmer Dargah on the way. One can also visit the Pushkar lake and the Brahma temple.
How to reach Pushkar
One can drive down from Delhi and the NH8 drive of about 380k is a treat in itself and can be easily done in 6-7 hours. The stretch between Jaipur and Ajmer is really great.
One can also take a train till Ajmer from where Pushkar is only 11km.

Accommodation :
The Pushkar resort is set over 15 sprawling acres of land with an exotic fruit orchard. This hotel in Pushkar offers stay in 40 luxurious air conditioned cottages with international class amenities. Every room has a mini bar, television with satellite links and telephone with direct dialing facilities. Guest cottages are spread into four secluded clusters. Interiors are modern & Spartan with minimal Rajasthani influences.
Facilities:
A modern and spacious Swimming Pool in an Oasis setting, Ayurvedic Massage, Golf driving range, Chipping/putting green, Sand Volleyball, Croquet, Spot Polo, Pool Table, Library, A variety of Indoor games, Hair dresser / beautician, Masseuse - specializing in herbal massages, Astrologer and Palmist, Traditional Bridal Display / mock wedding, Theme events and parties, Yoga classes, Philosophic discourses on Religion and Ayurveda.
Dining

The menu at Pushkar Resorts is largely Rajasthani, with minimal North Indian and international dishes. Pushkar Resorts is the only resort in the Pushkar area legally allowed to indulge their guests with non-vegetarian delicacies and alcohol, if so desired.

Bar:
Bar serving the choicest of wines and liquors.
Activities - Go for Desert or Village Safari on a bullock cart or enjoy the sprawling resort with all the recreation.
Contact Anand 0-9811193634/ Seema 0-9891458220
(10 AM-8PM)
EMAIL
us for bookings and packages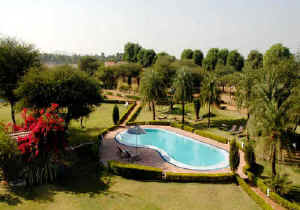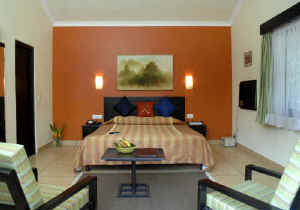 Contact Anand 0-9811193634/ Seema 0-9891458220
(10 AM-8PM)
EMAIL
us for bookings and packages

Package room Rs /- for 2nights 3 days with all meals for a couple