Jaipur Hotels


Heritage Hotels of Jaipur
Jaipur Resorts Heritage Hotels Jaipur Chokhi Dhani Samode Pachar Udaipur
Rajasthan has an abundance of old palaces and forts which have been converted into heritage hotels giving the guests a taste of the royal living. Jaipur is no exception and a lot of heritage hotels can be found with excellent living facilities. We offer you a choice of heritage hotels in and around Jaipur making for a majestic and comfortable sojourn.
Hari Mahal Palace Jaipur
Built in 1930 by descendents of Maharaja Prithvi Raj of Amber is a palatial mansion along with a huge lush green lawn, Hari Mahal Palace is a heritage hotel in Jaipur. The rooms are spacious and each done in different Rajasthani styles like Shekhawati, Jodhpuri etc. Interesting pictures and furniture of the gone bye era reminds one of Maharajas of yesteryears. Situated in proximity of the main Jaipur city it maintains a calm and peaceful atmosphere away from the hustle and bustle of the busy town. The rooms are air conditioned and equipped with all modern facilites and huge bathrooms to boot. Most of them open on to the green lawns, which definitely is the USP along with it's quiet surroundings of this small yet beautiful property. Indian and continental meals are available along with a muliticuisine & fast food restaurant in the same complex. Traditional Rajasthani folk dances, puppet show, theme lunches/dinners can be arranged at any of the hotels above.
The hotel also has a heritage property in Pachar, about 70 km from Jaipur, and a stay at both of these can be combined.
Contact Seema 0-9891458220/ Anand 0-9811193634/ (10 AM-8PM) EMAIL us for bookings and packages
Swmming Pool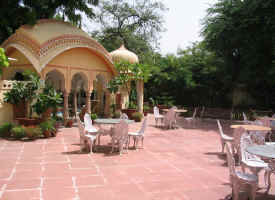 Room
Mandawa Haveli Jaipur
Built in 1896 by Thakur Bhagwat Singhji, the 15th ruler of Mandawa who was part of the Shekhawati clan. The haveli was converted into a heritage hotel by it's 17th ruler. The rooms are spacious with intricately carved wooden furniture, historic photographs and king-sized portraits. There is a royale looking swimming pool, various courtyards and lawns dot the haveli. A beautiful dining room makes the delicious Rajasthani meals served more mouth watering.
Alsisar Haveli Jaipur
Situated in the heart of the city and still providing a peaceful and green environs is Alsisar Haveli, one of the finest heritage hotels of Jaipur. Built in 1892 by Kachhawala clan of Rajputs. The descendents have renovated and refurbished the old Haveli into a modern Heritage hotel to give guests a feel of the Raj days. A large elevated platform once used for get togethers is now used for holding various functions, folk dances, puppet shows etc. A unique feature is the beautiful swimming pool with a lovely fountain and a green garden at the entrance. All rooms are airconditioned with attached baths with tubs
Contact Anand 0-9811193634/ Seema 0-9891458220(10 AM-8PM) EMAIL us for bookings and packages

Stay Package Rooms Rs 7000/- Per couple per night with breakfast (taxes extra)